One for the History Books
Dispatches From Route 66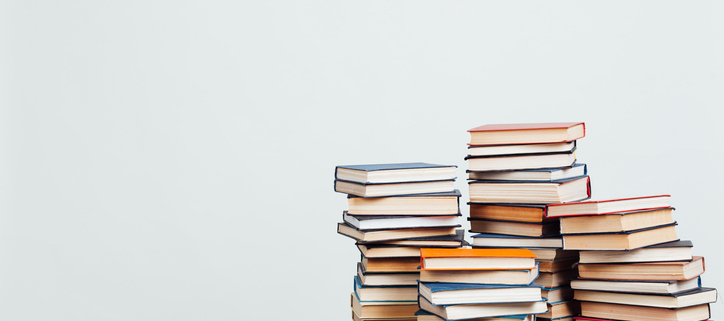 The year 2020 will definitely go down in the history books, for all of the reasons of which you and I are well aware. With two young boys who go to bed early and many of our normal family activities canceled, I have had a lot more free time lately to dive into one of my favorite pastimes: history. The year allowed me to indulge in some longer history books than my "normal" schedule would allow.
Many publications, including Dispatches From Route 66, begin each new year with a top 10 list. To uphold this tradition, I would like to add my own top 10 list to 2021: The Top 10 Historical Non-Fiction Books I've Read. Admittedly, I'm always looking for a new book (yes, historical tales are preferred) so please feel free to send me your suggestions.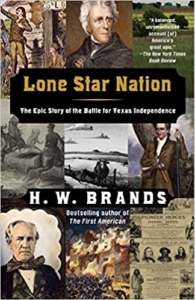 This book recounts the long and winding history of early Texas, in which Stephen F. Austin and other early settlers essentially squatted on non-American land, developed it, battled Native Americans, and eventually defeated the Mexican army…all before Texas became part of the United States. This book made me realize that the phrase "Don't Mess with Texas" could be appropriate for more than just the state's famous 1980s anti-littering campaign.
An adventure story from a mostly forgotten period of American history (can you name something important that happened in the 1830s or 1840s?), Sea of Glory is about the government-sponsored naval expedition of the Pacific Ocean for both scientific and navigational purposes. The four-year expedition was essentially the oceanic version of the Lewis and Clark exploration from a few decades earlier.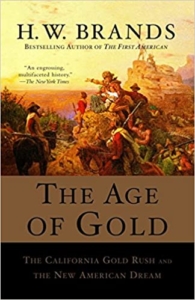 California (the Golden State) will always be synonymous with the gold rush. This book tells the personal stories of some characters who chased their dream of striking it rich, many of whom abandoned boats in the San Francisco harbor when they arrived, because there was no time to spare. I can't help but think this same spirit lives on today in Silicon Valley.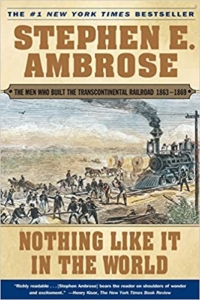 A fascinating story about the characters and companies (plural) who accomplished the seemingly impossible task of building a railroad from Sacramento  to Omaha, through the Sierra Nevada mountain range, linking the Eastern U.S. to the relatively new state of California. Abraham Lincoln, an accomplished railroad lawyer from Illinois, was instrumental in getting the ambitious project started.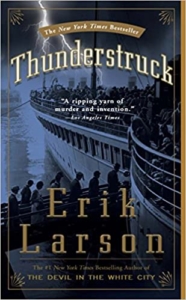 Erik Larson has several great books that could be on this list, but Thunderstruck stands apart as two seemingly unrelated stories, each uniquely interesting in dramatic fashion at the end. There's a technology entrepreneur adventure story and a murder mystery combined into one.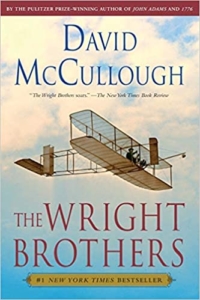 Without hearing the story, you would never guess that the inventors of the first successful airplane were bicycle shop owners from an industrial Midwest town, and that their accomplishments were mostly ignored for the first few years. This book shows that innovation and technological progress are really about experimentation and persistence more than flashes of brilliance.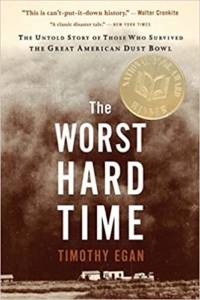 Any good Oklahoman knows that the panhandle of western Oklahoma was the epicenter of the 1930s Dust Bowl. The Worst Hard Time puts into perspective how bad it was as it outlines many personal stories of those who lived through it. How anyone stayed in that area and survived is a testament to resilience.e tinkerers who pushed it along, and the venture capitalists trying to capitalize on the creation of a new asset class and the "internet of money" bitcoin network.
This is a brilliantly woven story about the Civil Rights movement of the late 1960s  and how it was rocked by the tragic assassination of Dr. Martin Luther King, Jr. in 1968. This book takes readers on the go-to-ends-of-the-earth and no-stone-left-unturned journey to catch Dr. King's killers — with plenty of socio-political history as well.
A captivating story about Oleg Gordievsky, a Russian KGB officer turned spy, and the many twists and turns in his relationships with his home country, family, and Western European countries. If you enjoyed the TV show The Americans, this story is every bit as good…but also true.
A contemporary story still unfolding before our eyes, Digital Gold is about the cryptologist creator of bitcoin (the multi-billionaire founder of which remains a mystery), the tinkerers who pushed it along, and the venture capitalists trying to capitalize on the creation of a new asset class and the "internet of money" bitcoin network.
Nick Gallus, CFA
Senior Vice President & Director of Investment Research
(918) 744-0553
NGallus@TrustOk.com